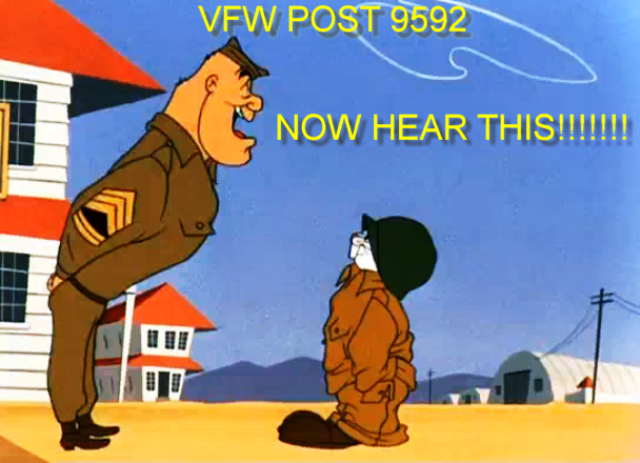 VFW POST 9592 MEETS ON THE SECOND FRIDAY OF EACH MONTH AT 8PM
THE NEXT SCHEDULED EXECUTIVE BOARD MEETING
IS ON MONDAY AUGUST 10@7PM
THE NEXT SCHEDULED REGULAR MEETING
IS ON FRIDAY AUGUST 14@8PM
WEAR PROPER FACE COVERINGS AND PRACTICE SOCIAL DISTANCING

THE ST. PATRICK'S DAY PARTY SCHEDULED FOR SATURDAY MARCH 14, 2020 HAS BEEN CANCELLED AND WILL BE RESCHEDULED TO A LATER DATE. IF IT IS DETERMINED THAT THAT THERE WILL BE NO PARTY ALL FUNDS WILL BE REIMBURSED.
UPDATED: SATURDAY 08AUG2020

VFW POST 9592 WILL START OPENING THE POST ON MONDAY AUGUST 10, 2020 WITH AN EXECUTIVE BOARD MEETING ONLY AND THEN AGAIN ON FRIDAY WITH A REGULAR MEETING ONLY. WE ANTICIPATE OPENING THE CANTEEN NEXT WEEK FOR
MEMBERS ONLY.
THIS WILL ALLOW US TO TEST OUR SAFETY PLANS AND COVID-19 STANDARD OPERATING GUIDELINES.
IF YOU ARE AN OUTSIDE ORGANIZATION THAT USES THE POST (HALL, 2ND FLOOR, ETC) FOR MEETINGS ON A REGULAR BASIS PLEASE E-MAIL CONTACT INFORMATION OF THE PERSON REPRESENTING YOUR ORGANIZATION TO vfwpost9592@gmail.com. SO WE CAN SEND YOU INFORMATION REGARDING NEW GUIDELINES AND THE USE OF VFW POST 9592'S PROPERTY.
WE LOOK FORWARD TO GETTING EVERYBODY BACK SOON

ORGANIZATIONS THAT USE VFW POST 9592'S HALL FOR MEETINGS ARE ENCOURAGED TO CLICK
HERE
OR VISIT
https://forward.ny.gov/
TO BECOME FAMILIAR WITH THE
NY FORWARD SAFETY PLAN TEMPLATE
2020-21 VFW YOUTH SCHOLARSHIP PROGRAM
Click
Here
for the Patriot's Pen Essay Contest Entry Form
Click
Here
for the Voice of Democracy Audio/Essay Contest Entry Form