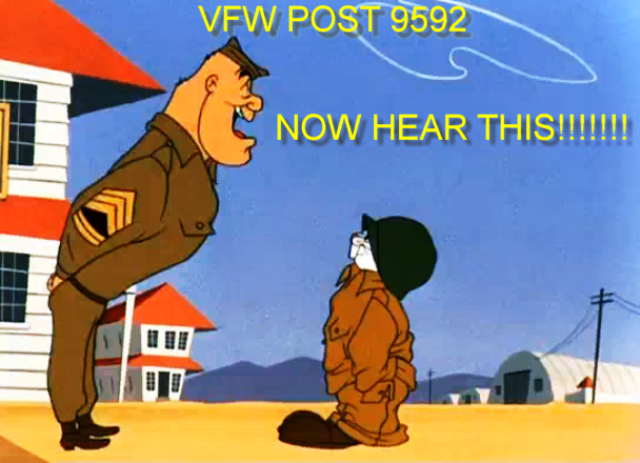 EXECUTIVE BOARD MEETING:
REGULAR GENERAL MEETING:
WEAR PROPER FACE COVERINGS AND PRACTICE SOCIAL DISTANCING
FIRST ROUND OF NOMINATIONS FOR 2021-22 POST OFFICERS WILL TAKE PLACE AT THE MARCH REGULAR MEETING.
UPDATED: TUESDAY 14FEB2021

NEW CANTEEN HOURS
FRIDAY - 1400 X 2300
SATURDAY - 1400 X 2300
SUNDAY - 1300 X 2300
CANTEEN IS NOW OPEN TO POST 9592 MEMBERS (VETERANS AND AUXILIARY)
SPONSOR OF GUESTS MUST BE PRESENT. GUESTS MUST GIVE CONTACT INFORMATION.
CLICK BELOW TO LISTEN TO EPISODE 004 OF THE VFW PODCAST

ORGANIZATIONS THAT USE THE POST (HALL, 2ND FLOOR, ETC) TO CONDUCT BUSINESS/MEETINGS ON A REGULAR BASIS PLEASE E-MAIL THE CONTACT INFORMATION OF THE PERSON REPRESENTING YOUR ORGANIZATION TO vfwpost9592@gmail.com.

ORGANIZATIONS THAT USE VFW POST 9592'S HALL FOR MEETINGS ARE ENCOURAGED TO CLICK
HERE
OR VISIT
https://forward.ny.gov/