VFW POST 9592
MILITARY ENTRANCE RECOGNITION
CHAIRMAN: PETER STASINSKI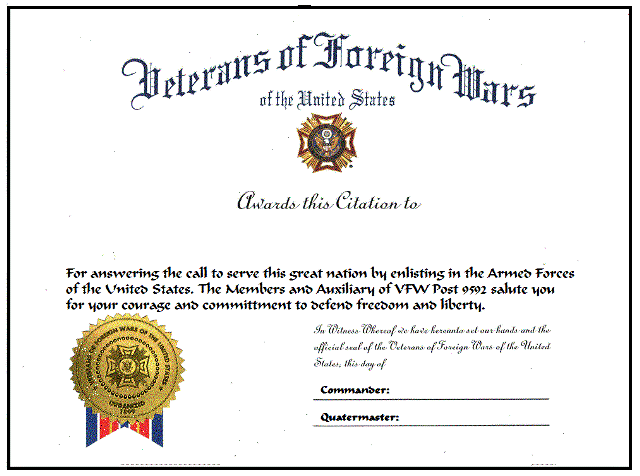 Today only 1% of the country's population is serving in the Armed Forces and all of them are volunteers
VFW Post 9592 appreciates the men and women who volunteer to leave their family, friends and their community to be the guardians of freedom, especially those who are from the Levittown – Island Trees community.
As Veterans we know the excitement, uncertainty, anxiety and fear that come with enlisting or taking a commission in the Armed Forces of the United States.
Therefore, VFW Post 9592 feels it appropriate to recognize those members of the community who have answered the call to serve through the Military Entrance Recognition Program.
The Military Entrance Recognition Program recognizes those members of the Levittown-Island Trees Community who, on most occasions, are leaving for initial military training and service upon graduation from high school.
Those entering the military are invited to VFW Post 9592 with their family and friends for a brief ceremony in honor of their commitment to serve. During the ceremony they will hear from some of the Veterans of the Post talk about their experiences during their transition from civilian to military life and then the Commander of the Post will present each honoree with a Certificate of Recognition.
The Ceremony is usually held during the first or second week of June before graduation.
Flyers announcing the ceremony date will go out to the local high schools in May. It will also be posted on this page.
If you are a high school senior who will be entering the military after high school, a member of the community, not in high school, who is leaving for initial military service or you know someone entering the military contact us to be part of the ceremony.
****Note: If you are unable to attend the ceremony (ie; your report date is before the ceremony date) contact us for alternate arrangements
CONTACT US at - vfwpost9592@gmail.com
Include: Name:
Address:
Phone#:
E-Mail:
Number of guests you are bringing:
Branch of Service or Service Academy:
Date Scheduled to Report:
Name and Contact information of Recruiter: