UPDATED as of 9APR2020

Coronaviruses (CoV) are a large family of viruses that cause illness ranging from the common cold to more severe diseases such as Middle East Respiratory Syndrome (MERS-CoV) and Severe Acute Respiratory Syndrome (SARS-CoV).
Coronvirus (COVID-19) is a new strain that was discovered in 2019 and has not been previously identified in humans.
Coronaviruses are zoonotic, meaning they are transmitted between animals and people. Detailed investigations found that SARS-CoV was transmitted from civet cats to humans and MERS-CoV from dromedary camels to humans. Several known coronaviruses are circulating in animals that have not yet infected humans.
Common signs of infection include respiratory symptoms, fever, cough, shortness of breath and breathing difficulties. In more severe cases, infection can cause pneumonia, severe acute respiratory syndrome, kidney failure and even death.
Standard recommendations to prevent infection spread include regular hand washing,covering mouth and nose when coughing and sneezing, thoroughly cooking meat and eggs. Avoid close contact with anyone showing symptoms of respiratory illness such as coughing and sneezing.
Monday March 16, 2020
: The Executive Board met to discuss the actions needed to be taken because of the Coronavirus. The Commander, after weighing all available information and options, decided that it would be in the best interest of all Members, Auxiliary and guests that the Post building be closed and all Canteen and Hall Operations be halted until further notice. It was also determined that only essential personnel identified by the Commander and on official business be allowed entry to the Post building. All other personnel needing access, whether members, Auxiliary or other persons, would need the permission of the Commander. The Executive Board will meet on Monday March 30, 2020 to re-evaluate the situation.
Alert
: Organizations that use the Hall during the month please call
516-640-8338
to request access.
Monday March 16, 2020
: In a message from the VFW Department of New York it was announced that all restrictions for restaurants and bars put in place by the Governor of New York applies to all VFW Post in New York State.
Tuesday March 17, 2020
: The Building Committee Chairman secured the services of Around the Clock Office Cleaning & Janitorial Service Company located at 411 Hempstead Ave, West Hempstead, NY. They are scheduled to be on site Monday March 23, 2020.
Wednesday March 18, 2020
: Building Maintenance began preparing the Post for Monday's Cleaning. Letters went out to members whose e-mail address, if any, is not on file with the Post, explaining the status of the Post.
Alert
: If you have not been receiving e-mails from the Post, the Commander request that you send your e-mail contact information to
vfwpost9592@gmail.com
Thursday March 19, 2020
: Continued preparing the Post for Monday's cleaning.
Friday March 20, 2020:
Building Maintenance shut down some non-essential equipment. This will cut down on energy use and hopefully save the Post some money on our electric bill. It will also allow us to start up fresh when we open. We are still standing by for Monday when the Post is to be cleaned by a professional service. This might change because of the Governor's new executive order.
Governor Cuomo announced the "NEW YORK STATE ON PAUSE" executive order, a 10-point policy to assure uniform safety for everyone.
The 10-point NYS on PAUSE plan is as follows:
1. Effective at 8PM on Sunday, March 22, all non-essential businesses statewide will be closed;
2. Non-essential gatherings of individuals of any size for any reason (e.g. parties, celebrations or other social events) are canceled or postponed at this time;
3. Any concentration of individuals outside their home must be limited to workers providing essential services and social distancing should be practiced;
4. When in public individuals must practice social distancing of at least six feet from others;
5. Businesses and entities that provide other essential services must implement rules that help facilitate social distancing of at least six feet;
6. Individuals should limit outdoor recreational activities to non-contact and avoid activities where they come in close contact with other people;
7. Individuals should limit use of public transportation to when absolutely necessary and should limit potential exposure by spacing out at least six feet from other riders;
8. Sick individuals should not leave their home unless to receive medical care and only after a telehealth visit to determine if leaving the home is in the best interest of their health;
9. Young people should also practice social distancing and avoid contact with vulnerable populations; and
10. Use precautionary sanitizer practices such as using isopropyl alcohol wipes
The state is defining essential services as the following:
Essential health care operations including
research and laboratory services

hospitals

walk-in-care health facilities

veterinary and animal health services

elder care

medical wholesale and distribution

home health care workers or aides

doctor and dentist offices

nursing homes, or residential health care facilities or congregate care facilities

medical supplies and equipment providers
2. Essential infrastructure including
utilities including power generation, fuel supply and transmission

public water and wastewater

telecommunications and data centers

airports/airlines

transportation infrastructure such as bus, rail, or for-hire vehicles, garages
3. Essential manufacturing including
food processing, including all foods and beverages

chemicals

medical equipment/instruments

pharmaceuticals

safety and sanitary products

telecommunications

microelectronics/semi-conductor

agriculture/farms

paper products
4. Essential retail including
5. Essential services including
trash and recycling collection, processing and disposal

mail and shipping services

laundromats/dry cleaning

building cleaning and maintenance

child care services

auto repair

warehouse/distribution and fulfillment

funeral homes, crematoriums and cemeteries

storage for essential businesses

animal shelters or animal care or management
6. News media
7. Financial Institutions including
banks

insurance

payroll

accounting
8. Providers of basic necessities to economically disadvantaged populations including
homeless shelters and congregate care facilities

food banks

human services providers whose function includes the direct care of patients in state-licensed or funded voluntary programs; the care, protection, custody and oversight of individuals both in the community and in state-licensed residential facilities; those operating community shelters and other critical human services agencies providing direct care or support
9. Construction including
skilled trades such as electricians, plumbers

other related construction firms and professionals for essential infrastructure or for emergency repair and safety purposes
10. Defense
11. Essential services necessary to maintain the safety, sanitation and essential operations of residences or other essential businesses including
law enforcement

fire prevention and response

building code enforcement

security

emergency management and response

building cleaners or janitors

general maintenance whether employed by the entity directly or a vendor

automotive repair

disinfection

doormen
12. Vendors that provide essential services or products, including logistics and technology support, child care and services needed to ensure the continuing operation of government agencies and provide for the health, safety and welfare of the public including
logistics

technology support

child care programs and services

government owned or leased buildings

essential government services
PREPARING THE CANTEEN FOR CLEANING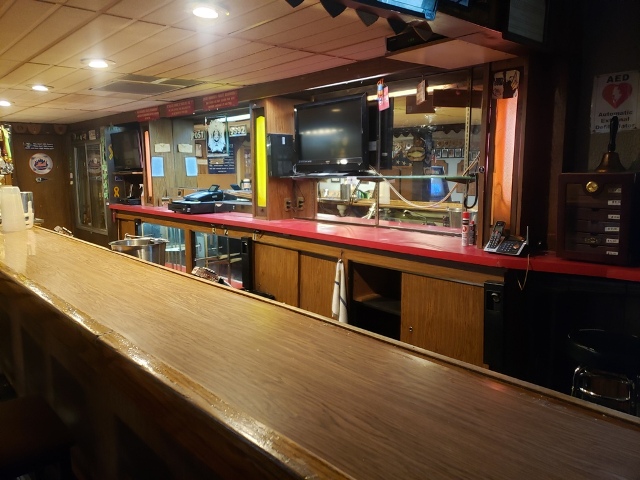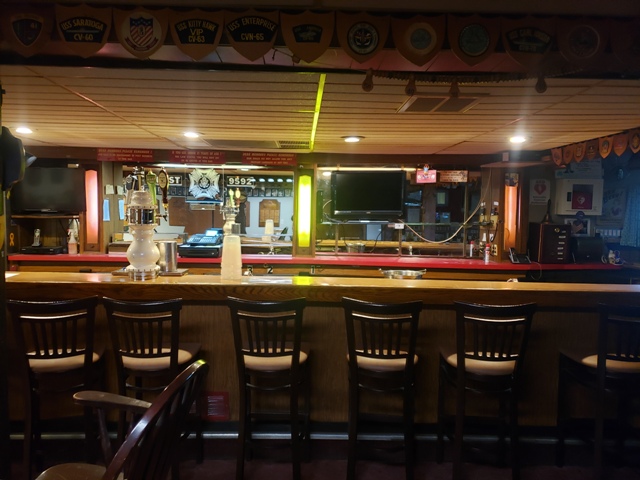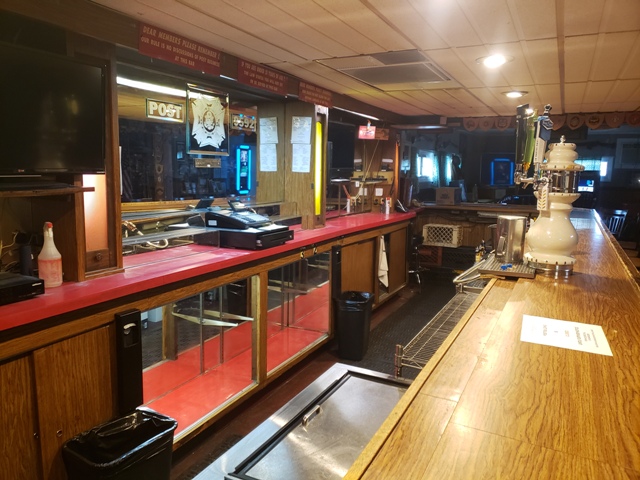 Monday March 23, 2020
: "Around The Clock Office Cleaning & Janitorial Service Company" cleaned and disinfected the entire Post building. The Canteen, Hall, Bathrooms, Kitchen and the 2nd Floor were all cleaned.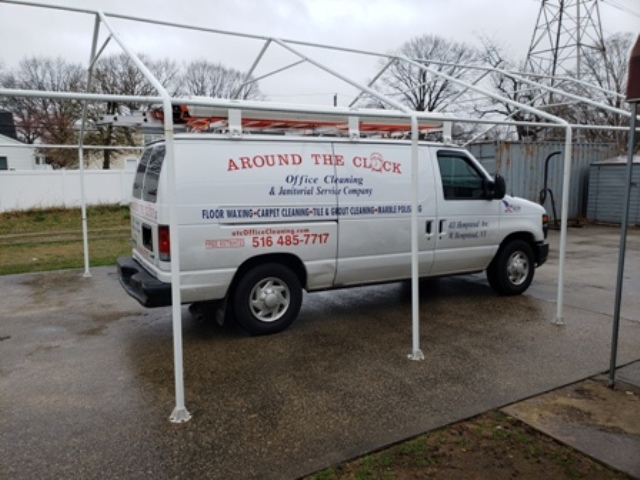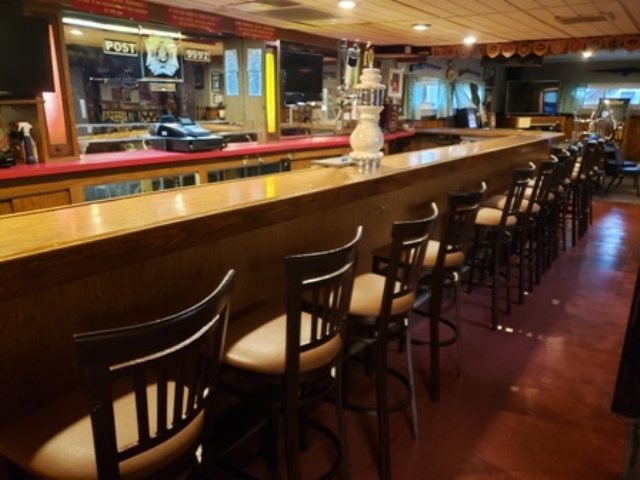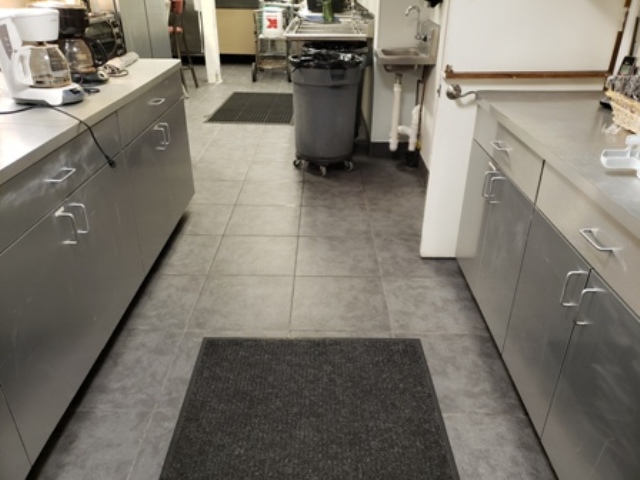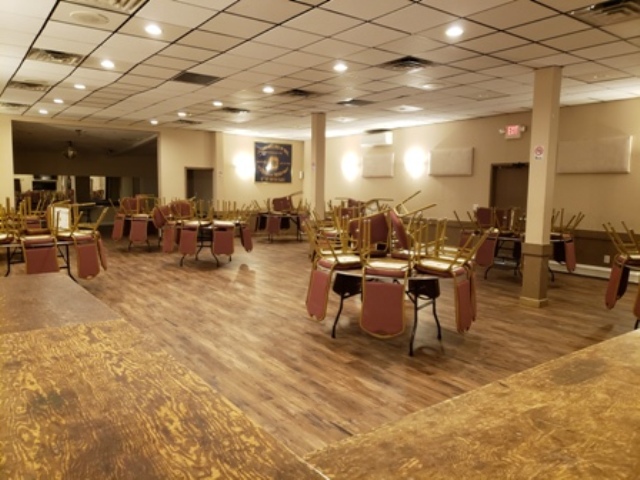 Tuesday March 24, 2020
:
Alert

T
oday VFW Post 9592 was informed that a Non-Member Guest who was in the Post on Friday March 13, 2020 has tested Positive for COVID-19. This individual is resting at home and will be quarantined for a couple of weeks. VFW Members and the Auxiliary have been informed and are directed to notify any of their guests who might have visited the Post on that date and time.
Monday March 30, 2020
: The Post Executive Board met this evening via video conferencing utilizing Skype to review and update the Post's response to COVID-19 and the restrictions enacted by the VFW Department of New York, State Government and the Federal Government. Taking all into account it was determined that the Post Building will remain closed until April 30, 2020. Also, all Hall and Canteen Operations will continue to be shut down until April 30, 2020. The following meeting/events have been cancelled for the month of April:
The Normal Executive Board Meeting Scheduled for Monday April 6th

VFW Post 9592 Regular Meeting Scheduled for Friday April 10th

The VOD/Patriot's Pen Awards Night Scheduled for Monday April 27th
The Post building will be closed to all organizations that use the Hall for their meetings or events in April.
All Hall Rentals for the Month of April have been cancelled.
If you have any questions about the Hall please call 516-640-8338. For other questions please e-mail the Post at vfwpost9592@gmail.com or use the "contact us" tab on this web site
Thursday April 9, 2020:
VFW Post 9592 continues to prepare the Post building for it's eventual reopening by making changes that will create a safe environment for it's members and guests. Hand Sanitizer Dispenser stations have been installed by all entrance ways into the Post with separate stations in the Canteen and the kitchen.