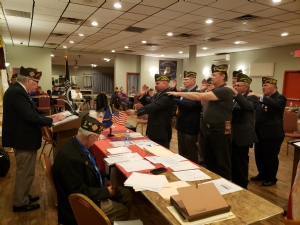 On Saturday May 20, 2023, at VFW Post 9592, the Post's current Post Commander, Comrade Kevin Vargas-Colon was installed as the 2023-24 District Ten Commander. He was joined by other current and Past Post Commanders of District Ten who were installed and will fill the necessary officer positions as spelled out in the National By-Laws and Manual of Procedure.
The Installation of Officers was conducted by VFW Post 9592's current Hospital Committee Chairman, Past Post Commander and Past District One Commander, Robert Spicer.
To Make the evening more memorable the current Department Commander, Peter Pennelle, made the trip from upstate to VFW Post 9592 to witness the event and address the members pf District Ten.
Comrade Kevin Vargas-Colon will officially relieve the outgoing District Ten Commander, Luke Magliaro of the Inwood VFW Post 1582 upon the installation of the incoming Department Commander, Dan Kell of the Jamestown, NY, VFW Post 53. When Comrade Luke Magliaro, who was extremely instrumental in getting District Ten off the ground, turns over the "Gavel" to Comrade Kevin Vargas-Colon, he will then take his elected position of 3Yr Trustee for the District.
VFW Post 9592 wishes all incoming 2023-24 Officers a successful VFW year.