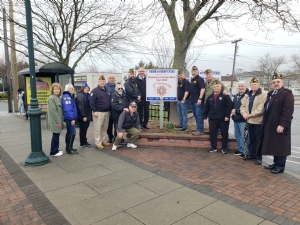 On Thursday March 23, 2023, VFW Post 9592 and its Auxiliary were joined with Town of Hempstead Supervisor Donald X. Clavin Jr, Town of Hempstead Councilman Dennis Dunne Sr, Levittown Chamber of Commerce Past President Donald Patane and Levittown Community Council member Thomas Kohlman on Hempstead Turnpike at Division Ave in Levittown, NY for the official unveiling of a road sign celebrating VFW Post's 75th Anniversary.
The road sign is placed on the northside of Hempstead Turnpike and Division facing east so motorist and pedestrians traveling west bound on the Turnpike can see it.
VFW Post 9592, which was chartered on April 24, 1948, has been serving local Veterans, Military Service Members and the Community for last 75 years and will be celebrating this historic milestone with a military type Ball on Thursday, April 27, 2023, at The Sterling in Bethpage.